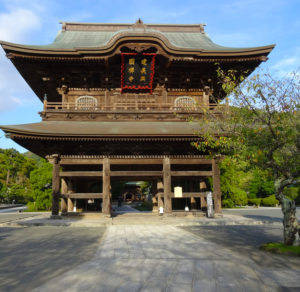 Do Kencho-ji dotarliśmy po 20-minutowym spacerze ze stacji Kita Kamakura. Z dala od zgiełku miasta, przy ujściu malowniczej doliny, pośród starych drzew, przepiękna majestatyczna brama Sanmon subtelnie obwieściła nam przybycie do celu. Aż podskoczyłam z radości na praktykę Zen w tak cudownym i znakomitym miejscu.
Kencho-ji (建長寺) jest najwyższą rangą Rinzai-zen świątynią w całej Japonii. Została zbudowana w 1253 roku jako pierwszy i jedyny ośrodek szkoleniowy Zen. Kapłanem-założycielem był, przybyły prosto z Chin, Rankei Doryu. Śmiało więc można powiedzieć, że przeniesienie Zen z Chin do Japonii odbywało się (między innymi) w prostej linii przez Kamakurę!
Buddyzm ZEN to przede wszystkim dwa jego główne odłamy: Soto (Soto-zen) i Rinzai (Rinzai-zen). Oba wywodzą się z Chin i zostały zaszczepione na grunt japoński w XIII wieku.  Zen Soto, bardziej przypisywany praktyce zwyczajnych ludzi, który został przekazany przez Dogena, podkreśla rolę medytacji zen (zazen) i uważa ją za najważniejszy sposób, aby osiągnąć oświecenie. Najważniejszą świątynią Soto-zen jest Sōji-ji w Tsurumi (Yokohama). Rinzai-zen, którego przedstawicielem był właśnie Doryu, (a główną siedzibą jest właśnie Kencho-ji w Kamakurze), bardziej związany z klasą samurajów, kładzie większy nacisk na praktykę koanów, czyli paradoksalne pytania, na które nie ma racjonalnych odpowiedzi.
Każdy, kto praktykuje japoński ZEN powinien, jeśli oczywiście ma możliwość, chociaż raz odwiedzić obie te wspaniałe świątynie. W Kencho-ji można uczestniczyć w zazen (坐禅) regularnie w każdy piątek i sobotę o 5:00 rano i o 17:00, a dwa razy w roku odbywa się dłuższa praktyka seshin. To w języku japońskim. Na terenie świątyni odbywa się też zazen-kai (坐禅会) w języku angielskim, raz na trzy miesiące. Najbliższe spotkanie dla gaijinów – już 22 lutego 2017, a następne 12 maja. Zbiórka o 13:00! Zazen-kai dla świeckich praktykujących odbywa się w budynku Hojo. Właściwe Zen-Do (oficjalna sala do praktyki zazen) znajduje się w klasztorze po prawej stronie kompleksu, Tokygetsu-ro, jednak jest on niedostępny dla postronnych, mieszkają tam tylko mnisi.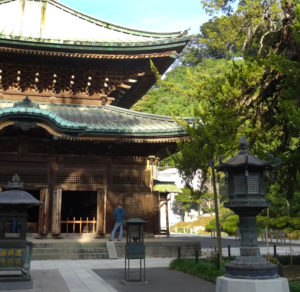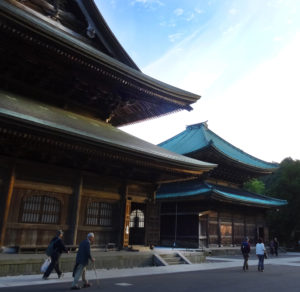 Oficjalne ceremonie buddyjskie w Kencho-ji mają miejsce w najważniejszych starych budynkach: Butsu-den (czyli Pawilonie Buddy) lub w Hatto (czyli Pawilonie Dharmy). Na co dzień są one otwarte dla zwiedzających. W Pawilonie Buddy jest ciekawy drewniany posąg Bodhisattwy Jizo. Dawniej, jeszcze przed wybudowaniem świątyni, było to miejsce egzekucji, zwane Jigokudani (地獄谷), Doliną Piekła. Jizo do dziś pomaga zbłąkanym, cierpiącym i tułającym się przez wieki, duszom odkupić wszelkie dawne przewinienia. W Hatto zaś warto zwrócić tu uwagę na dwie rzeczy: osobliwego ascetycznego Buddę uchwyconego w nieustającej medytacji (prezent od rządu Pakistanu z 2005 roku) i wielkiego smoka spoglądającego z sufitu. W buddyzmie smoki są symbolem nauki.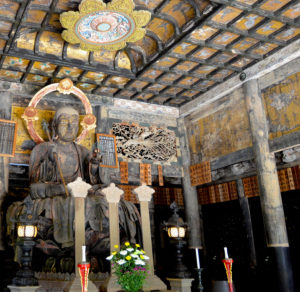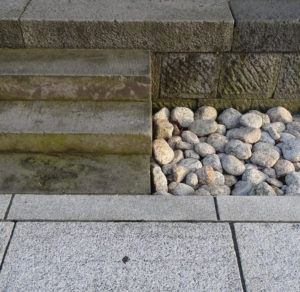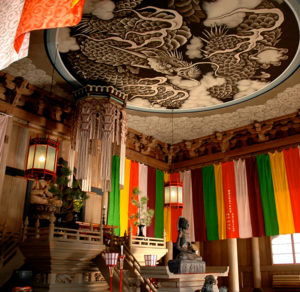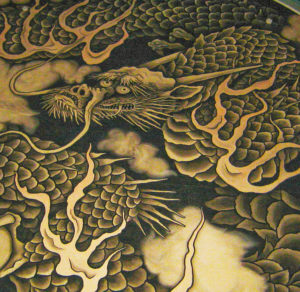 To, co jest istotą i esencją zen, czyli zazen (rodzaj siedzącej medytacji) odbywa się w Hojo, zwanym też Ryuoh-den. Kiedyś to były pomieszczenia mieszkalne głównego kapłana, ale teraz to główne miejsce do treningu zen. W całym kompleksie Hojo obowiązuje zakaz noszenia butów. Główną salę otacza drewniany zadaszony chodnik, tam zwykle odbywa się kinhin 経行 – medytacja w ruchu.  Siedzenie zazen zazwyczaj obejmuje 3 rundy po 15 minut (dla początkujących) lub 30 minut (dla zaawansowanych) przeplatane rundami kinhin dookoła hojo, co jest wyczekiwaną prawdziwą ulgą dla zdrętwiałych nóg!
Siedzimy na niebieskich wygodnych zabutonach, w pozycji skrzyżnej, z rękami splecionymi w dharmadhatu-mudrę. Plecy proste, oczy otwarte, wpatrzone swobodnie w punkt położony około metra przed nami, na podłodze. Jak nakazuje tradycja Rinzai, wszyscy skierowani są twarzami do środka sali. (w tradycji Soto siedzi się twarzą do ściany). Z otępienia lub roztargnienia wybija nas co jakiś czas niezastąpione keisaku (警策), które jest tu używane z wyczuciem i stanowczością. Keisaku to płaska deseczka wykonana z dębu lub kasztanowca, którą mnich, uderzając odpowiednio w ramię, przywołuje czujność umysłu podczas zazen. W Kencho-ji klepnięcia keisaku są dość twarde, ale łagodne, wspaniale dyscyplinują, próbujące dryfować po Hojo, myśli. Po medytacji wszyscy uczestnicy wspólnie mogą śpiewać sutry. Bez obaw, dla gaijinów są śpiewniki wydrukowane w romaji, wystarczy czytać głoski. Uwielbiam śpiewanie sutr, zawsze niecierpliwie wyczekuję Sutry Serca (Hannya Shingyo). Kto chce posłuchać jej po japońsku – proszę bardzo :)))) Spotkanie kończy się wspólną herbatą i luźnymi pytaniami do prowadzącego.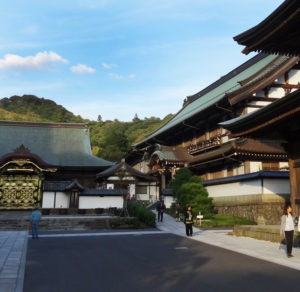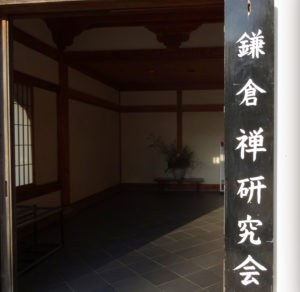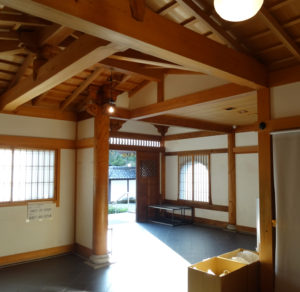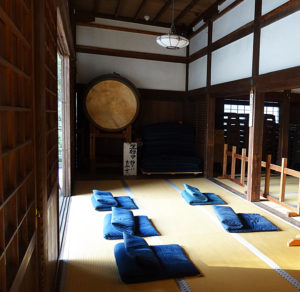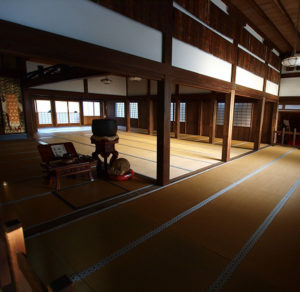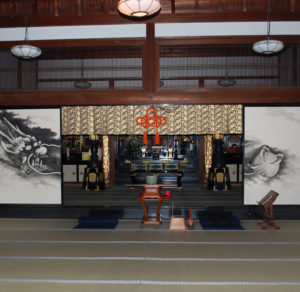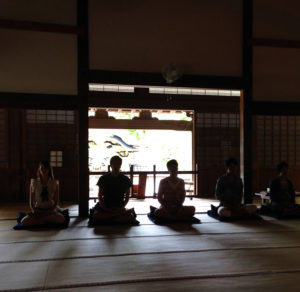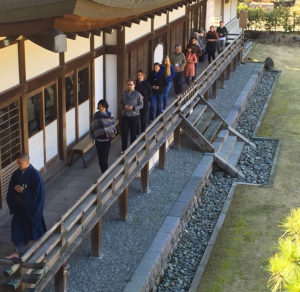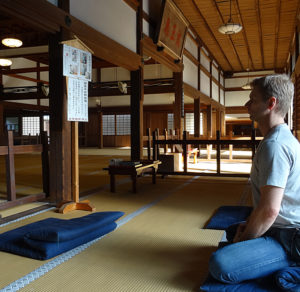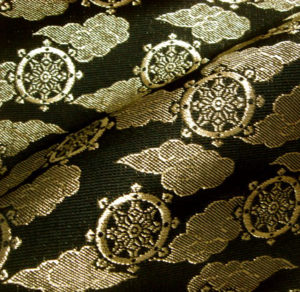 Można oczywiście darować sobie ten cały formalny zen, i po prostu usiąść w spokoju na ławeczce i zatonąć w pięknie ogrodu. Prawdziwie niebiański spokój przyniesie patrzenie na staw Shin-ji Ike.
Ogromny wspaniały teren Świątyni skrywa różne urocze zakamarki. Jest tu oryginalny stary Bonshō (dzwon świątynny), który został odlany w 1255 roku, nosi sygnaturę samego założyciela, Rankei Doryu, i dlatego został uznany za Skarb Narodowy. Uwagę zwraca też niesamowita brama Karamon (唐門), bijąca po oczach złotymi okuciami, z pozoru nieprzystająca skromnym świątyniom zen. Wszystko ma tu jednak swoje uzasadnienie, to brama paradna, otwierana jedynie dla konwojów cesarskich. Ciekawostką jest, że zarówno Karamon, jak i Butsuden nie wyrosły na terenach Kencho-ji, ale, dopiero dobre 400 lat po jej zbudowaniu, przeniesiono je tu, kawałek po kawałku, z Tokyo, z innej przepysznej świątyni: Zojo-ji.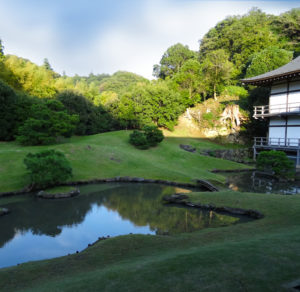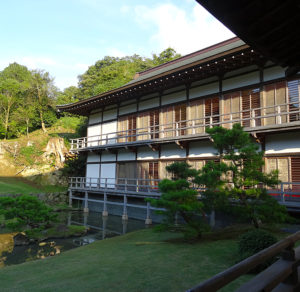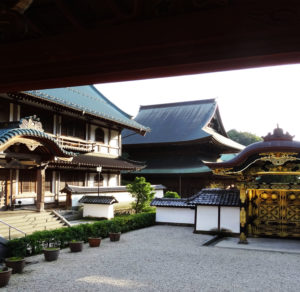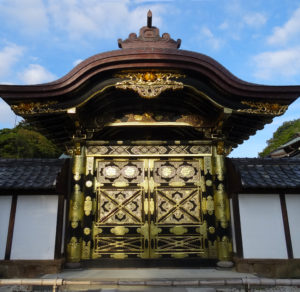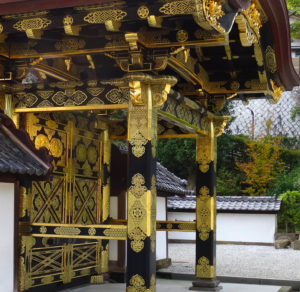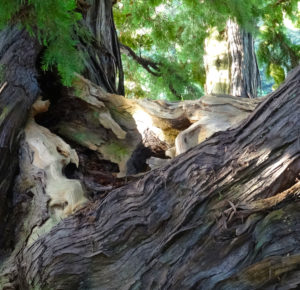 Spacerując po świątynnym kompleksie nie sposób nie zauważyć nieprawdopodobnych, rozłożystych starych, jałowców, przywiezionych tu 750 lat temu przez pierwszego arcykapłana Doryu. Tak, jak z małych sadzonek wyrosły ogromne silne drzewa, tak samo zakiełkowały ziarna ZEN rzucone na jakże podatny grunt.